Preparing to begin a Drift Dive in West Palm Beach, FL
What is the PADI Rescue Diver course?
The PADI Rescue Diver course is the most serious fun you can have in a weekend. This course teaches divers for the first time to look beyond themselves and to put them into a position to help others if needed. We strongly believe this course is really the first leadership course that PADI offers. It is a prerequisite for all continuing education courses beyond Rescue Diver (Master Scuba Diver, Divemaster and beyond).
---
To enroll in this course you must hold the following certifications:
MFA/CPR course or other sanctioned CPR course within the last 24 months
---
The course consists of three basic parts:
Some independent study (book or CD-ROM)
A classroom session
A long open water session
The goals of this course are:
Learn effective diver rescue and first aid skills
Prepare and manage realistic rescue scenarios
Increase your awareness of dive safety
Anticipate and prevent potential problems
Expand diver knowledge and preparation
---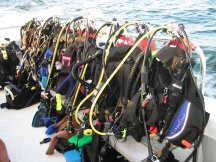 Course fee includes:
Rescue Crew-Pak (Manual, work slate, Rescue Diver emblem, certificate, PADI SAFE decal, GO PRO brochure)
Tank rentals
Air fills
Certification fees
West Bank Park entrance fee
The course fee includes everything you need. Students should have their own gear, but equipment rental packages are available at an extra cost. Contact us for more information.
---
How much does the course cost?
This all-inclusive course is only $200 per person. Remember, the Rescue Crew-Pak is included in the price.
---
This course is taught over one weekend and will take up most of Saturday and Sunday. Sunday evening we usually have a small graduation pizza party (not included).
---
The classroom session is held at our house. The open water session is usually conducted at Lake Lanier. We use West Bank Park to conduct our training. We prefer Lake Lanier for this course because of the limited visibility and the ease of stirring up the bottom. This provides training in a worst case scenario and makes for better students. Also, the beach area of West Bank Park is perfect for our egress exercises. Please call or e-mail us for more information or to schedule your course.