Preparing to begin a Drift Dive in West Palm Beach, FL
What is the PADI Openwater Diver course?
The PADI Openwater Diver course is the stepping stone into a new world. We consider it the first dive rating and the beginning of a new adventure called diving. Chances are good that you have been diving before through one of PADI's Experience programs. A lot of students get hooked on diving this way. The Openwater Diver certification gives you the freedom to go diving anywhere at anytime. Once you achieve this rating it is good for life. It does not expire. This certification will let you dive worldwide to a maximum recommended depth of 60 feet. While some dive operators are more lenient than others, this rating does not provide you with enough training about deep diving and specialty diving (caverns, wrecks, etc.) We do recommend a Scuba Review after an extended period of time away from diving to sharpen your diving skills.
---
The course consists of four basic parts: (these parts are not necessarily completed in the following order)
Some independent study (book or CD-ROM)
A classroom session (5 modules)
A confined water session (pool) consisting of 5 dives
An open water check-out session (lake, springs, ocean) consisting of 4 dives
During the independent study and classroom sessions you will learn about:
The underwater world
Dive equipment
Buddy System and underwater communication
Dive planning
Dive safety
Dive theory
Dive table use
Good dive practices
Confined and open water skill previews
This material is presented in a variety of formats, which makes it easier and more fun to learn. We utilize PADI's state-of-the-art audio and video materials, books, CD-ROM software, classroom discussions, practical training session, etc. This is not your every day class room session.
During the confined water session is where the real fun begins. We are going to do diving and that is what you have been waiting for. You will learn:
Water skills
Fun
Games
Fun
The list looks strange but this is really what you will learn. The goal is to teach you the skills you need in open water. The class is not time-based but rather performance-based. This means you progress at your own pace and you will have plenty of time to become proficient and comfortable in the water. At the end of the session we will usually have time to play with underwater flying disks and throw some torpedoes around.
The final step of this course is the open water checkout session. This part is taught in open water at a spring system, lake, ocean or even quarry. You will learn:
Nothing new is taught
Proficiency is checked
Fun underwater tours at the end of every open water dive
This is where you get to show of your new diving skills. Instructors will make sure you have obtained mastery of all of your dive skills. This is not an examination weekend. If at first you don't succeed at a skill you will receive plenty more opportunities to demonstrate mastery.
---
How is the course normally taught?
There is a number of different ways this course can be taught and organized.

Our favorite ways to teach it is in one weekend:
This option is perfect for those of you, who love instant gratification: Get-Certified-In-One-Weekend. You read the book and complete the knowledge reviews on your own time. You also receive a video and watch the video anytime before the weekend. Then on Friday night we conduct a classroom session during which we go over your knowledge reviews, the dive tables, and you take the exam. On Saturday morning we depart for Pelham, AL. We dive all day Saturday. On Saturday night we stay at a local hotel (included in the price) and continue the course on Sunday. We usually complete the course on Sunday afternoon. By Sunday evening you are PADI's newest Open Water Diver!!!
We prefer to teach semi-private courses (4 open water students per class or less). We can acommodate larger groups in a custom class format as well. Contact us and we will help you custom tailor this program to your schedule.
---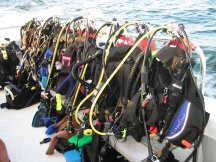 Confined water course fee includes:
All books (Course Manual, log book with training record, dive table, dive table guide, PADI SAFE decal)
Equipment rental fee (Mask, Fins, Snorkel, Weight Belt, Weights, Regulator, BCD, Tank, Wetsuit)
Air fills
Pool fees
Open water course fee includes:
Equipment rental fee (Mask, Fins, Snorkel, Weight Belt, Weights, Regulator, BCD, Tank, Wetsuit)
Air fills
Certification fees
Hotel room (double occupancy, single rooms available for a nominal upcharge)
Entrance fees
Again, a personal mask, fin, snorkel, weight belt and weights are not required. They are provided by us. If you would like to purchase your own gear before the course, we can help you select gear that works for you. We are not a dive store but we work with the finer dive shops in the Atlanta area to provide you with excellent prices and customer service.
How much does the course cost?
See our price list here. Remember this is all you pay, everything is included. You do NOT even have to provide a personal mask, fin, snorkel, weight belt and weights. Meals and transportation are not included. Ask us about Open Water Referrals.
How long is the course?
This course is usually taught in one single weekend.
Where is it taught?
The classroom sessions are held at our house. The confined and open water sessions are usually conducted in Pelham, AL. We encourage companies, families, and groups to take this course together. Please call or e-mail us for more information or to schedule your course.