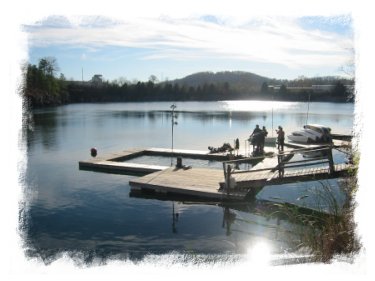 Preparing to do a deep dive at a quarry in Pelham, AL
What is the PADI Advanced Openwater Diver course?
This course must rank as the most widely misunderstood course of all the PADI courses. Unfortunately this course has a poor name and really should be called 'Adventures In Diving' (it is not surprising that PADI is trying to re-brand this course also). This course is not intended for advanced divers so much as rather an introduction to novice divers to all the great underwater activities. While the Openwater course focused on teaching you the skills to go diving, the Advanced Openwater course shows you how to maximize the action below the surface.
This course consists of five (5) adventure dives conducted over two days. Two of the dives must be a Deep Diver (below 60 ft) and an Underwater Navigation Dive. For the three elective dives you may choose from the following list:
Altitude Diver
AWARE Fish Identification Diver
Boat Diver
Cavern Diver
Drift Diver
Dry Suit Diver
Enriched Air Diver (Nitrox Diver)
Multilevel/Computer Diver
Night Diver
Peak Performance Buoyancy Diver
Research Diver
Underwater Hunter
Underwater Naturalist
Underwater Navigator
Underwater Photographer
Underwater Videographer
Wreck Diver
Don't these activities sound fun? Sign up today. Any one of the Adventure Dives can be credited to the corresponding Specialty.
---
The two mandatory dives teach you essential dive skills. During the Deep Dive you get introduced to the physiological and physical effects of deep diving. Some of the best diving is below 60ft, especially our favorite...Wreck Diving.
On every dive you do compass skills can assist you greatly. During the Underwater Navigation Dive you will learn to take compass bearings, follow patterns, and measure distances underwater.
Depending on the electives chosen, you get to learn what you are interested in...always wanted to know what that fish was called? ever wanted to take the beauty of the ocean back home by shooting some pictures? With this course you tell us what you want to learn.
---
What course options are there?
There is no classroom work involved in this course. Everyone loves that part. All you have to do is read the corresponding chapters for your chosen dives and complete the knowledge reviews. Then off we go to Florida for an action packed weekend of diving. Sounds good to me...Let's Go Diving Now!
---
Course fee includes: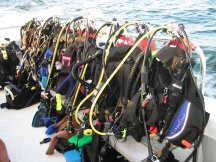 Adventures in Diving Crew-Pack or CD-ROM (Manual, Data carrier slate)
Tank rentals
Air fills
Certification fees
Entrance fees to springs or boat fees for ocean dives
By now students should purchase their own gear. We do have rental packages available at an additional cost. Diving in your own gear that you know increases your comfort level tremendously. We are not a dive store but we do have equipment packages that we can recommend that are available at great prices. We work with the finer dive shops in the Atlanta area to provide you with excellent deals.
How much does the course cost?
This all-inclusive course is only $199.95 per person. Remember this includes dive fees and books!
How long is the course?
This course is usually conducted over one weekend. Two days of diving are required. This can also be split up over two weekends upon request. Please call for special arrangements.
Where is it taught?
While we prefer to teach this course in Florida, one option is also to go to Pelham, AL which is less than 2.5 hours west of Atlanta. Please call or e-mail us for more information or to schedule your course.