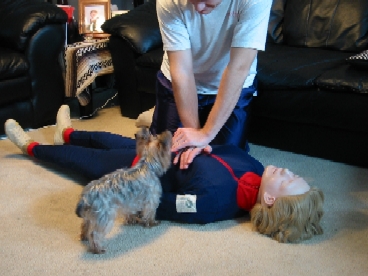 CPR training is conducted on our state-of-the-art Laerdal Recusci Anne CPR manikin.
A study done in Seattle, Washington clearly shows the importance of knowing how to perform CPR. The study included 500 cardiac arrest victims. The results showed that if the victim received CPR within four (4) minutes and then advanced life-support within 8 minutes, the patient had over a 50% chance of returning back to a regular life. On the other hand, when CPR was not performed within four minutes and advanced life-support was delayed by more than 8 minutes, the patient had only a 5% chance of leaving the hospital (Source: PADI MFA-I Manual).
This important study showed that initiating CPR within the first 4 minutes is a key component in improving a person's chance of survival by almost 50%.
This comprehensive, yet fun training course combines Medical First Aid training with Cardiopulmonary Resuscitation (CPR) techniques. The course is designed to prepare you for an emergency so you can act quickly and confidently.
You will learn:
Primary Assessment
One Rescuer CPR
Airway Management (Choking)
Control of Bleeding
Shock Management
Illness Assessment
Injury Assessment
Automatic Electronic Defibrillator (AED) use
Emergency oxygen administration
The course consists of a state-of-the-art A/V presentation, incorporating all of the latest rescue information, segmented by practical training sessions. All practical CPR training will be conducted on our state-of-the-art Laerdal Recusci Anne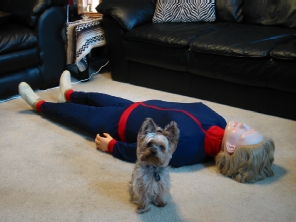 CPR manikin. Unlike some CPR classes which are taught using cheap plastic dummies, our Recusci Anne feels like a real person, resulting in superior preparation. Your training also includes information and instruction on the proper use of your own personal Laerdal Pocket Mask. This barrier system prevents the spread of infectious disease while performing CPR. This important device is yours to keep for FREE.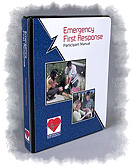 Course fee includes:
Certification fee
All books (Course Manual, EFR Binder, EFR decal)
High quality, plastic wallet certification card
Free Laerdal Pocket Mask in protective yellow hard case (a $20 value, includes safety glove, wipe, and instruction booklet)
How much does the course cost?
This all-inclusive course is only $75 per person (additional family members are only $65, because the books can be shared). Remember, everything is included, even your very own Laerdal Pocket Mask.
It depends on the number of people participating. Usually this course can be completed in one evening. The course is performance-based not time-based. We give each student as much personalized attention and time as needed to complete the course objectives. We want you to feel comfortable and confident.
The course is usually taught on a weekday evening at our residence. For a group of people we can arrange to come to you. We encourage companies and families to take this course. Please call or e-mail us for more information or to schedule your course.

Additional Information