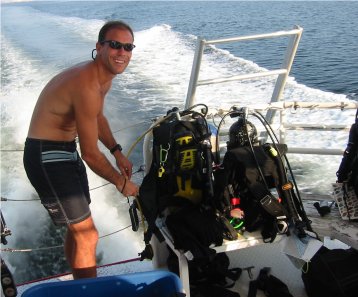 Tim preparing for the Wreck Specialty in Panama City Beach, FL
What is a PADI Specialty Diver course?
Specialties give a diver a specific set of skills related to the activity. It is an opportunity to quickly learn everything a diver needs to know in a given area. This is a great way to become a better diver quickly. All specialties have very limited book work and there are no exams to take (Enriched Air is an exception)
Also, once you have completed 5 PADI specialties, the PADI Rescue Diver course and have logged 50 dives you can apply for the most prestigious recreational dive rating of all -- the MASTER SCUBA DIVER.
---
The course consists of three basic parts: (these parts are not necessarily completed in the following order)
Independent study (book or CD-ROM)
Knowledge Review session (there is a required classroom session only for the Enriched Air Specialty)
Open Water Dives (2-4 dives depending on Specialty)
During the Independent Study you will read about the dives you are going to perform. You will learn about specialized equipment you might be using, special skills you might be performing, as well as anything else you need to know to get you on the path of becoming an expert in that particular field of diving.
The Knowledge Review Session is a quick overview of the review you have filled out while you were doing your independent study. We want to make sure you master the material. Great news. Except for the Enriched Air Specialty there are NO EXAMS to be taken.
The Open Water Dives are where the fun begins. This is where you put all of your newfound knowledge to good use. The instructor will guide you through the required skill performances in a low stress and relaxing environment. Remember, there are no time limits to perform the skills.
---
We offer the following PADI Specialties:
Altitude Diver
AWARE Coral Reef Conservation Specialty
AWARE Fish Identification Specialty
Boat Diver
Deep Diver
Drift Diver
Dry Suit Diver
Enriched Air Diver
Equipment Specialist
Night Diver
Peak Performance Buoyancy
Project Aware
Search & Recovery Diver
Underwater Naturalist
Underwater Navigator
Underwater Photographer
Underwater Videographer
Wreck Diver
---
Specialty course fees includes:
Specialty Equipment rentals (Camera, safety reel, lift bag, compass, etc.)
Air fills (Nitrox included for Enriched Air Specialty)
Weights
Certification fees
Completion Card and wall certificate
The course fee does not include rental equipment (mask, fins, snorkel, weight belt, BCD, regulator) or dive fees (boat trip fee, daily dive fee for quarry or spring). Rental gear is available from us at a discounted rate. Contact us for more information.
---
How much does the course cost?
Course fees depend on the materials required and number of dives. Please contact us for more information.
---
The length of the course depends on the number of required dives. Any course with 3 or less required dives can be completed in one day. Dive specialties with 4 dives must be completed over two days! Please see the table below for the information.
Course
Number of Required Dives
Altitude Diver
2
AWARE Coral Reef Conservation
Classroom Only
AWARE Fish Identification
2
Boat Diver
2
Deep Diver
4
Drift Diver
2
Dry Suit Diver
1 Confined Water Dive
2 Open Water Dives
Enriched Air Diver
2
Equipment Specialist
Classroom Only
Night Diver
3
Peak Performance Buoyancy
2
Project Aware
Classroom Only
Search & Recovery Diver
4
Underwater Naturalist
2
Underwater Navigator
3
Underwater Photographer
2
Underwater Videographer
3
Wreck Diver
4
---
What are the course pre-requisites?
OW = Open Water Scuba Diver
AOW = Adventure Diver or Advanced Open Water Scuba Diver
Course
Minimum Age
Minimum Level
Altitude Diver
12
OW
AWARE Coral Reef Conservation
None
None
AWARE Fish Identification
10
OW
Boat Diver
10
OW
Deep Diver
15
AOW
Drift Diver
12
OW
Dry Suit Diver
12
OW
Enriched Air Diver
15
OW
Equipment Specialist
12
Any Dive Cert.
Night Diver
12
OW
Peak Performance Buoyancy
10
OW
Project Aware
None
None
Search & Recovery Diver
12
AOW or
OW with Navigation Specialty
Underwater Naturalist
10
OW
Underwater Navigator
10
OW
Underwater Photographer
10
OW
Underwater Videographer
10
OW
Wreck Diver
15
AOW
Specialties can be taught just about anywhere. We conduct specialty courses on all of our dive trips.
Please call or e-mail us for more information or to schedule your course.